Interviews with Travelling Companions
Carlos Rivas — Chingachgook in
The Deerslayer

(1957)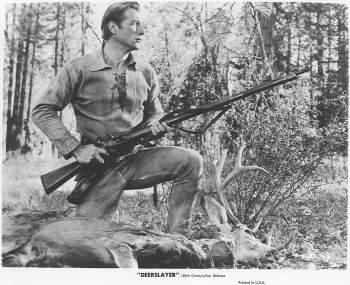 Lex Barker in The Deerslayer
The 1957 film based on the world-famous novel by James Fennimore Cooper shows Lex Barker in a role that was tailor-made for him. He is a trapper who knows the wilderness inside out and lives in harmony with the Red Indians. It is an ideal type of role for him — only five years later, Lex Barker will become the legendary Old Shatterhand.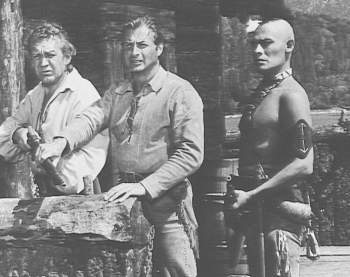 left to right: Forrest Tucker, Lex Barker, Carlos Rivas
His Indian friend in The Deerslayer is the Mohican Chingachgook, played by Carlos Rivas. The real name of the actor Carlos Rivas, born in Texas in 1928, is Karl Weber. His father is German, his mother Mexican, and Carlos grows up in both the southern United States and Mexico. He starts using his artist's name, which is his mother's maiden name, at the beginning of his movie career in 1945. After a range of productions in Mexico where he acted side by side with María Felix und Dolores Del Rio, the actor with the masculine image experiences his breakthrough in Hollywood and appears in over forty movies. His most famous roles were in The King and I, where he played Lun Tha, Rita Moreno's lover, next to Yul Brynner, Chingachgook in The Deerslayer with Lex Barker, as well as in the horror science fiction movie The Black Scorpion (1957) as Mexican geologist Arturo Ramos. Rivas can be seen in guest roles for television productions such as Bonanza, Tarzan, Zorro and other well-known series, and in addition in the occasional theatre production. Despite illness Rivas remains active well into his advanced age. The very likeable Carlos Rivas has given his life-long support to the needs of the Latinos in the entertainment industry. He is a founding member of Nosostros, a Los Angeles organization that works for the betterment of the image and employment of Latinos within that industry, and as such is honored for his engagement with a Golden Eagle. Carlos Rivas makes his last movie in the year 2000, three years later he dies from the effects of cancer.
The following interview took place in 2001 at the actor's home and is published for the first time.
Señor Rivas, why do you count The Deerslayer among your favorite movies?
Well, I had a great relationship with both stars of the movie, Lex Barker and Rita Moreno. I already knew Rita from The King and I. We all had a lot of fun filming on all those beautiful locations. There was more fun than work. That's the reason why I like remembering that movie.
How do you remember Lex Barker?
He was a good fellow and fully dedicated to his work.
Do you like being an actor?
Yes, I love it. I still act.
How did you get into acting?
One day I sat in a bar in Mexico, eating lunch. A fellow came in, sat down at the bar and drank something. After a while he asked: 'Is there anyone who speaks English?' 'Yes, I speak it.' 'Wonderful.' He said to me: 'You look like an actor.' But I wasn't one, I only lived in Mexico. Despite that I replied: 'I've always been an actor. Why do you ask?' It turned out that he wanted to make a movie in about three weeks time and was still looking for a certain character for it. 'Are you interested?' 'Yes, I am.' He gave me his card. Afterwards I forgot everything about it. A few days before filming began, I came across the card again, it had fallen out of my coat pocket. 'Oh, that's the fellow who wanted to make that movie.' I dialed the number. It was just the right time, they were about to look for someone else because I hadn't been in touch. Anyway, that's how my career in the movie industry started.
You began with a few movies in Mexico, but also in Argentina...
I only filmed in Mexico! Those were Argentinean productions that were filmed in Mexico. Westerns that were created in Central America because of the scenery.
How were the working conditions in Mexico?
I liked filming in Mexico. There are many who complain about shooting in that country. The work load is minimal in Mexico. They always say: 'We begin in half an hour.' Four hours later they finally start. (laughs) Things like that happen all the time. One has to consider the local mentality. The US-Americans only hear that it'll start in half an hour, get excited and make preparations... and nothing happens. They aren't used to that. It doesn't bother me, but it vexes a lot of people.
You slowly get closer to US-American film with a few co-productions, for example Fury in Paradise (1955)
My role in that movie was only very small, but very important. Someone in the studio back then asked around if there was anyone who could speak English. I put my hand up, auditioned and they were delighted. 'You speak perfect English.' That was very considerate, but of course I didn't let them know that [English was my first language]. (laughs) So I got the role...
In 1956 you have your break-through with The King and I...
My favorite movie. I have wonderful memories about the production. I sang, I danced. Rita Morena was my partner. We were both under contract with 20th Century Fox. But they hardly gave us any movies. I played twice together with Rita for Fox, in The King and I, and in The Deerslayer. Yul Brynner, who played the king in The King and I was great. I will never forget how we got to know each other. It was on an escalator. We were engaged in a conversation and stood at the bottom of the escalator. Then we got on. He went ahead and I followed him. Despite that he wasn't any taller than I. Yul wasn't a very tall man, two heads shorter than I. He was of slight build and not very strong. I looked over the top of him even on the escalator. Yul stood at the beginning of his career. Deborah Kerr played the female lead. She, too, was wonderful and friendly. I liked working with her. One day she gave me her address in case I wanted to rehearse with her. I should then ring her and she would be available for rehearsal. That was very kind. Our director, Walter Lang, understood how to direct musicals. He shot a few.
One of the first remarkable appearances in a Western was in Comanche (1956)...
It was filmed in Mexico. A good Western. I love Westerns. And I liked director George Sherman's work. I had worked with him before. I liked him, he liked me. If you get on with the director it is always good for the movie.
In The Beast of Hollow Mountain (1956) you are seen side by side with Guy Madison, an actor who later also appeared in some German Karl May movies with Lex Barker...
I also love that movie. Naturally we filmed without the monsters that were built into the movie later. That was no problem for us actors. I can't forget how the director used to say: 'Okay, go for the monster.' He said that a few times. One day one of the actors called him: 'Mr. Monster.' That unnerved the director. 'Why are you calling me that?' 'Because you constantly call out "monster".' Guy Madison was great. I liked working with him. He belonged to the sort of actors who approached you after a take and asked: 'Did you think this was good? Can we leave it like that? Let me know if you think we can leave it like that.' A wonderful cooperation. I liked him very much. What else do I remember? Our colleague Patricia Medina was from England and was very pretty.
You can be seen next to famous Errol Flynn in The Big Boodle (1957)...
That was great. It was actually filmed in Cuba. Flynn was a great actor. Although he was drunk all day. Amazingly he stood bolt upright as soon as he heard the shout: 'Camera, action!' and nobody noticed that he was drunk. He was able to do the scene. Our film was some of his last work... I was once asked whether I had a drivers license. 'Yes,' I replied. 'Good, we don't have much time. You run up to this spot, jump into the car and drive away.' They actually had a driver on the set, but I knew nothing of it back then. I jumped into the car, collided with the driver and inadvertently hit him on the head. He was unconscious for a while. At first I didn't know what to do, but then drove off at high speed. There was nothing of it in the script, but director Richard Wilson approached me and said: 'That was wonderful and looked very natural. We'll leave it in the film like that.'
One of your movie highlights was The Black Scorpion (1957)...
This movie was also made in Mexico. Many of my films were shot there.
But you are not Mexican.
I am a US-American, born in Texas. But I speak both English and Spanish equally well. If I am in Mexico I say: 'I am Mexican.' If I'm in the U.S.A. I say: 'I am American.'
You first filmed with John Wayne in The Undefeated (1969)
John Wayne was a fantastic fellow. We were both not too short in stature. One day he said to me: 'I love working with tall actors. Every time I have to work with short colleagues I must bend down and that doesn't really suit me. I have to bend down all the time to talk to them. I can speak face to face with a fellow like you.' During one scene we moved uphill. He sat on the horse, while I walked on foot. We moved towards a predetermined point and he was continually drinking from a bottle. At one stage I wanted to take the bottle off him and have a drink as well, but he refused: 'You can't drink that.' As he said that he lost control and fell from the horse. He looked around, saw me and asked: 'What are you doing here?' 'We've been here all day.' 'I've only just arrived. Give me a drink'. Everything was in order again.
...then you also played next to Wayne in the legendary movie True Grit (1969)
A fantastic western. I like this film very much. Everything was good about this production. A giant movie!
Your director in Topaz (1969) was Alfred Hitchcock, no less...
The best director with whom I've ever worked. Every director has his own personality. A few of them have the ability to know how to deal with actors. Actors are very difficult humans. They have to be treated with care, must be satisfied, and in a certain manner. Not all directors can do that. Those who can, will receive every actor's best performance. If a director doesn't manage to deal with actors correctly, the entire affair will go pear-shaped. As a director you have to be accommodating to an actor, constantly support him. Actors are egotistical. The better they are being guided, the more you get out of them. Alfred Hitchcock talked a lot with the actors. The German actress Karin Dor also participated in Topaz. The most beautiful woman I ever saw. But unfortunately I haven't seen her in any subsequent movies. I haven't heard any more about her since that time and would like to know what became of her.
She plays theatre and appears on television in Germany... Where was Topaz filmed?
As far as I recall, here, in and around Los Angeles.
What are you doing at the present?
My last movie was The Colonel's Last Flight, a film that's set in the present time. Since then I haven't been doing any filming. There are no more good movie offers. Only bad scripts. And I don't want to do those. But I have the advantage that I can also do film work in Mexico. If I don't get any good films here in the States, I can still do lead roles in Mexico. It is a smaller country, but my name is known there. I've already played in telenovelas. Small roles, because that's another genre. But I have made many movies in Mexico. If I look back I notice that I have also been shooting many US-American movies in Mexico.
Thank you for the conversation.
Reiner Boller (2001)
Translated by Marlies Bugmann (2007)